Pets
7 Mistakes To Avoid When Choosing & Installing A Dog Kennel
Last Updated on August 30, 2023 by Umer Malik
Choosing a dog kennel is no less impactful than choosing a new apartment for yourself. A kennel is a dog's first abode and a corner he can call his own in your home. If you are looking to invest in a kennel for your furry friend, here are seven mistakes to steer clear of.
Focus On The Location
The exact location you wish to install your kennel in your backyard must have flat and clean floor space. Any shrubs, burrows, minor bumps or hindrances are not the ideal spot to steer clear of trouble. Avoid any low-lying space that can flood quickly during the rainy season or a pipe peak. You don't want to face the kennel directly in the line of the sun. Sideway sunrays are ideal for your dog to get some sun time but not roast in the heat. Avoid placing the kennel directly in the path of the wind as this can leave your dog uncomfortable over time. It's best to pick a spot that offers a little bit of everything. Pet parents don't give due thought to the kennel location and often have to uproot the structure sooner than you know it.
Going Wrong With The Size
The size of the kennel is one of the foremost purchase considerations and a key determinant of the functionality of a kennel. While a small cosy place is ideal as dogs like their home to feel like a den, you need to tread with caution here. Anything too small can be claustrophobic. Ensure you choose a kennel that is tall enough for your fully grown dog to stand upright and sleep in any position or direction. Invest in a kennel that supports your dog's fully grown adult size so he can use it all through his growing years and well into his adulthood. So even if you presently have a small dog, if you have a big breed dog, it makes sense to opt for a large dog kennel. A dog's energy level is also a factor in choosing the size of a kennel. If your dog is jumpy, energetic and hyper, it makes sense to throw open some extra room to support their need for movement.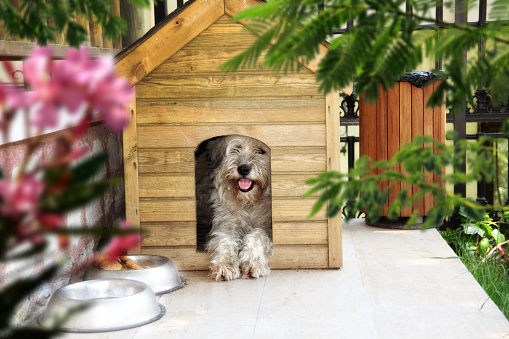 Insulation & Heating
Many dog owners do not give due importance to insulation and heating. It is not possible to know just how cold or hot it can get in the kennel over a few minutes as your dog slips into slumber. In such situations, it is wise to rely on heating pads or spray foam insulators to keep your dog in moderate temperatures. In extremely cold or hot places, investing in a thorough insulation or heating set-up is handy. In such cases, the location of the kennel also plays a role. If it is closer to the home, an electric line can be taken to offer electric heating pads or an enclosed and concealed fan for air circulation. There are several easy DIY heating and insulation hacks for kennels that you can get to do it in a cost-effective way.
Escape Proof
It is tough for a dog to instantly accept a new home and a new family. This sudden separation from the mother can leave your dog feeling overwhelmed and insecure. In the initial days, your dog may look for ways to escape their kennel either by pushing, digging or jumping out of it. Many pet parents fail to factor in this element in their dog kennel. This results in a missing pet and only luck can tell whether you end up finding your pet again. To avoid this mistake, ensure your pet is in an escape-proof kennel that keeps him safe and guarded.
Lack of Visibility
Contrary to popular opinion, your dog still needs periodic supervision even when he is in his tent. Many pet parents often believe that leaving a dog in the kennel is safe all day long. This could be further from the truth. Even when your dog is in the kennel, ensure you have a clear path of visibility from your home so you can keep an eye on your dog's whereabouts and ensure he is safe. Walk up to your dog every 30-45 minutes to engage with him and let him know you are available. This clear path of visibility and communication is a necessity that most pet parents often overlook when choosing a kennel, its direction and its location.
Easy Human Access
A kennel maybe your dog's home, but the responsibility to keep it neat falls upon pet parents. Choose a dog kennel that offers easy access for cleaning and maintenance. Many dog kennels come with a detachable roof that allows pet parents to clean it easily. A sliding tray for food and water bowls is a boon as it lets you change the water easily without opening up the roof. Keeping fresh water for your dog is ever so important as stale water can lead to loss of appetite, leaving you wondering – why is my dog not eating. For all these reasons and more, factor in maintenance and human access before zeroing in on a dog kennel.
Wrap Up
We hope you find the perfect kennel for your dog with the above ideas!
Read More: What To Feed A Sick Dog